Binary Options Broker Review 24Option
Overview
The market is filled with binary options brokers, and new ones are added every year. One of the newest binary options brokers to hit the market is 24Option.com. This broker is owned by the same people behind OptionFair.com, and runs the same platform as that website. It is completely web-based, which means an option trader can access the platform from any computer for binary options trading, and offers 23 tradable binary options assets with three expiry times.
The following assets can be traded:
Commodity options: Oil, gold
Forex options: GBP/USD, GBP/JPY, USD/JPY, USD/CAD, USD/CHF, EUR/JPY, EUR/GBP, AUD/USD, EUR/USD, USD/TRY, EUR/TRY
Index options: Dow Jones, NASDAQ, S&P 500, FTSE, DAX, IBEX, CAC-40 Future, MIB-40 Future, SMI-Future, ASX Future
Stock options: Google, Apple, BP, Barclays
There are some uncommon binary options offered here, such as CAC-40 Future, MIB-40 Future, SMI-Future, USD/TRY, and EUR/TRY. You do not see those offered very often in the market, but the rest are pretty common, and as a whole the number of assets is roughly around the binary options trading industry average.
Creating an Account
Option traders can create an account with 24Option.com by going to
OpenAccount and filling out the information page, complete with account info and personal info. Once reading and approving the terms and conditions, your account is created. There is no fee to sign up.
User Interface
24Option may be new, but it offers one of the most user-friendly user interfaces of the binary options brokers out there. It is smooth, clean, attractive, and easy to use, with an intuitive layout. Switching between the three different trading methods – High/Low, One Touch, and Boundary – is easy, with tabs at the top of the interface. Drop-down menus allow you to switch between different types of binary options (forex options, commodity options, etc.). Prominently displayed in the main content area are the asset name, target price, action buttons, return, and expiry, as well as the status of your trade.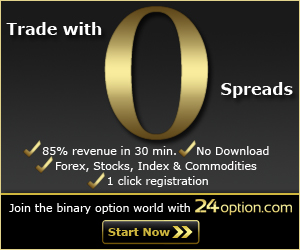 Features that are lacking from the user interface are charts and graphs that give you a visual representation of what you are trading. The interface is still pretty easy to use, though, and your trades are color-coded based on if they are in the money, out of the money, or at the money.
Unique Features
24Option advertises itself as offering a few features to option traders that aren't found in many places online. One is the option to sometimes close out a trade early, before expiry. This is not always available, but is there at times if an option trader wants to end the trade early.
Payouts and Commissions
24Option advertises some of the best payouts in the business, with an 85% payout in the money and a 15% refund if the trade is out of the money. You can also earn bonuses if you sign up – a 24% bonus with a minimum deposit of $200. They also offer occasional promotions, like the chance to win an iPad.
Conclusions
The main draw of 24Option is that it is easy to use, with a trader's guide to get a beginner up to speed and a nice user interface. The bonus is pretty good for new users, and there is a nice bit of flexibility with three expiry times and 23 assets. The drawback is that there isn't a lot of financial data that is easily accessible, and some advanced options aren't there.

GD Star Rating
loading...
24Option Review – Binary Options Now

,